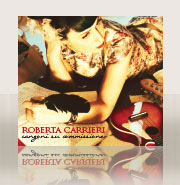 CANZONI SU COMMISSIONE
"Canzoni su commissione" (Adesiva Discografica, Self) is the third album by Roberta Carrieri, out 22 April 2016.
The 12 tracks on the album were inspired by an original writing experiment: the themes were proposed by her illustrious "patrons", including Michele Mozzati (Gino and Michele, Smemoranda, Zelig), Simone Cristicchi, Andy Fluon (Bluvertigo), the writer Leonardo Coen and Gian Maria Accusani (Prozac +, Sick Tamburo).
The production and arrangement of "Canzoni su commissione" were entrusted to the able hands and ears of the refined Paolo Iafelice, who worked for years alongside such renowned artists as PFM, Vinicio Capossela, Fabrizio De André, Pacifico, Ligabue, Stewart Copeland , Daniele Silvestri, Samuele Bersani and Fiorella Mannoia.
The new element that Roberta Carrieri is bringing to this work is an elegant electronic sound that fits beautifully with her usual raw acoustic style, thanks to the talents of Lele Battista, Elvin Betti and Paolo Iafelice.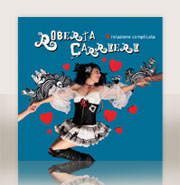 RELAZIONE COMPLICATA
Relazione Complicata, the new album by Italian (Pugliese) singer-songwriter Roberta Carrieri (distribution by Self) contains 13 unreleased tracks including the song San Pietro by Davide Van De Sfroos.

Relazione Complicata (Complicated Relationship) takes a light-hearted and ironic look at the subject of emotional dependence, inspired by American psycologist, robin Norwood's book, Women Who Love Too Much. This album sees the participation of italian rockabilly combo, The Rock'n'Roll Kamikazes (lead by ex-frontman of The Hormonauts, Andy Macfarlane), and Brasilian band, Selton.

Press release (download pdf)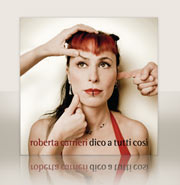 DICO A TUTTI COSÌ
Dico a tutti così (I say this to everyone) is a melancholy album.

Roberta Carrieri tells us her secrets as if reading pages from her diary, sometimes whispering, sometimes at the top of her voice.

Dico a tutti così wins over her shyness and speaks not only of herself but of imaginary stories and desired scenarios-desired so much as to cause loss of sleep.

At times hermetic, at times disarmingly explicit and sincere and at times ironic, Dico a tutti così is a collection of the most significant songs by this wandering singer-songwriter from Bari. Roberta sings of solitude and departure but also of loves that are difficult to explain, sometimes even Saffo-esque.

These are songs from the corner, found in the dusty nooks and crannies where we seek refuge after a long voyage, far from where we were born; from where there was the sea and the sunshine.

This album sounds like a declaration of love, but watch out, just like the title, Roberta Carrieri says this to everyone!

Press release (download pdf)