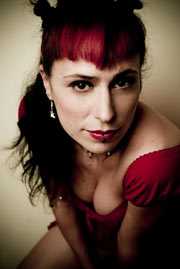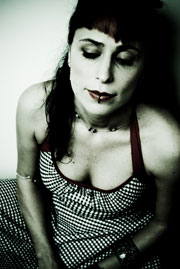 Clown, stilt-walker and performance-artist, dressed as a fetishistic Barbie wrapped in cellophane, with Monstrance in her hand and a chewing gum in her mouth. Out there on the provocative edge, perfectly still for hours, asleep in a red suitcase like a porcelain doll, she loves to transform herself, but above all she loves to sing and write songs.
Roberta Carrieri comes from a strong theatrical background (Teatro Kismet, O.perA, Quarta Parete) and it is this visual experience that she translates into songs where words which are more evocative than narratives paint a very personal and at times ironic landscape.
She has an unmistakable voice; personal yet powerful, compelling with touches of irony, she moves easily from heady swirling vocalism to simple memorable, yet sophisticated melody.
Live, her theatrical side, subtly hinted at and never overplayed, lends a peculiar twist to her show. Often playing alone, one voice and a guitar, her simplicity both charms and disarms the audience.
She sings her songs, like pages from her diary, as if she was telling a secret, sometimes out loud, sometimes in whispers. There are also imaginary stories in which she transforms herself into the characters of the song.
Roberta Carrieri is also the voice of Fiamma Fumana, one of the most important bands of Italian World Music. With them she has performed in some of the most prestigious theatres and festivals in Europe, The U.S. and Canada, and participated in the documentary film "Di Madre in Figlia"(produced by Davide Ferrario and screened at the Toronto film festival 2008 and Turin Film Festival) She has also collaborated in other numerous musical events, amongst others Giangilberto Monti's album, Maledette Canzoni (a tribute to the French Maudites), "Tres!" (an interactive performance using art and music with artist Davide Toffolo (Tre Allegri Ragazzi Morti) and with her version of the beautiful song "Labbra Blu" on "Dono", a tribute to Diaframma, produced by Federico Fiumani.

In 2009 Roberta Carrieri released her first solo album entitled Dico A Tutti Così (X-Beat/Goodfells). The album featured many guest artists, amongst whom, Cesar Basile, Rodrigo D'Erasmo (Afterhours), Davide Toffolo (Tre Allegri Ragazzi Morti) and Mauro Ermanno Giovanardi (La Crus).
From this album, the song Angolino featured in the soundtrack of the film Sguardo da Uomo (2010) directed by Federico Rizzo.
Dico A Tutti Così reached the United States and in September 2009, Roberta toured in Arizona, New Mexico, California and Utah, then, on her return to Europe, in France (Grenoble and Lyon) and Belgium.

In 2010 Roberta featured in the song Dove Non Basta Il Mare, from the album Yanez by singer-songwriter Davide Van De Sfroos. This was the start of a lasting collaboration as guest singer in the following tour of theatres all around Italy.

In July 2012 Roberta participated in the Avignon Off theatre festival Voci - Italiens d'Exportation along with Peppe Voltarelli.

February of 2013 saw the release of her second Album Relazione Complicata (Complicated Relationship), which was inspired by American psychologist Robin Norwood's book, Women Who Love Too Much and where she addresses the theme of emotional dependence with light irony.